Astute, involved and active, Cumberland Club members have long built meaningful relationships through lively conversations. To bolster this tremendous member benefit, the Club offers special events designed as a backdrop for socializing and sharing ideas and values. These events range from casual get-togethers to formal dinners featuring speakers whose impact is felt on a national and global level. No matter the occasion, members can expect the highest standards possible with a dedication to detail in both planning and execution.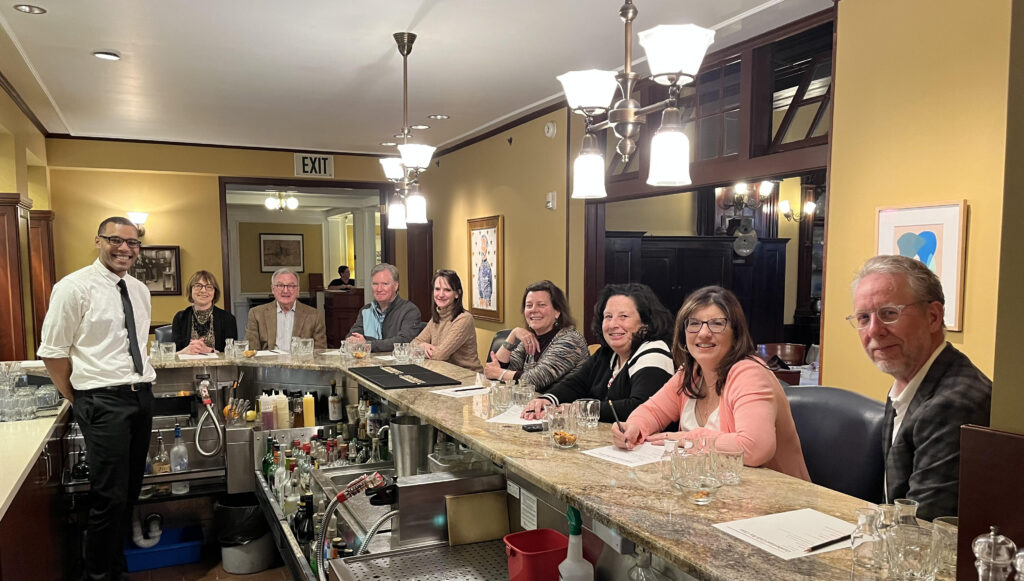 The Bartending Class with Elijah Yeboah
The Club's first Bartending Class of 2022 kicked off in April with the Club's own mixologist. It was a great success and Elijah looks forward to his next class of thirsty students.
Upcoming Events
October 7th 5:30PM
We will venture to Italy as Mark continues to travel the "Wines of the World".
October 14th 6PM
We will host Mr. David Crooks at the Chamberlain Lecture as he recounts the tales of diving for sunken treasure on the wrecks of the Queen Anne's Revenge and the Wydah Gally.
October 15th 6PM
The Annual Harvest Dinner with Chef Joe's take on the bounty of Maine.
November 5th 6PM
2022 Captain's Ball. The Cumberland Club's premier event of the year is returning! Get ready to come and regale in style! Dinner, dancing, cigars, bourbon, wine…need I say more. This is THE black-tie event you won't want to miss!
November 24th two seating's 12:00 and 2:30
Thanksgiving our celebratory banquet. Bring your family to give thanks with us, but reserve early, as seating is limited.
December 10th 6PM
Cocktails & Candy Canes, come out and enjoy a special night to welcome in the Christmas Season. Christmas Tree Lighting at 6PM
December 18th
Hanukkah Begins
January 1st 11:30 – 1:00
New Year's Day Brunch Cumberland Club's one and only brunch of the year to get start out 2023 right.
January 20th
First Annual Cumberland Club Indoor Putt Putt Golf Championship Come have a some fun and comradery while we transform the Clubhouse into a gold obstacle course.
February 10th 7PM
Champagne & Caviar Social We are kicking off the weekend before Valentine's Day with a bang. Do not wait for Tuesday to show that special someone a night out.
February 21st 6PM
Bourbon Street Casino Masquerade Party That is right, it's Mardi Gras Portland style. A celebration to rival any near the bayou. This party will be the hit of the season, transporting you to a New Orleans Riverboat for a night of music, mock gambling, and good times.